Rent Silent Disco Headphones in Valencia and create your own Silent Disco EVENT!
Rent Silent Disco Headphones in Valencia and create your own Silent Disco EVENT!
BOOST YOUR EVENT BY RENTING OUR SILENT DISCO HEADPHONES
Throw a house party without disturbing your neighbours
Party on the beach with friends while watching the sunset
Create a Silent Disco stage on a party or festival
Give an extra dimension to city tours or sports classes
Make your Friday afternoon drinks with colleagues crazy fun
And so much more…!
You don't disturb others with loud music
You can have multiple music channels at the same time
You can have your event everywhere because it's wireless
People feel more free with headphones on
Expect more dancing and singing along!
The wireless headphones have 3 channels, each indicated by a color: red, blue and green. Each music channel is connected via Bluetooth to your device (phone or computer) by a transmitter.
You can choose the amount of headphones and transmitters yourself. Also see our prices.
Using the headphones is very easy. First, you turn on the headphones and the transmitter. Then, you connect your phone, computer or DJ mixer with the transmitter via Bluetooth. Now you're ready to play your favorite songs on YouTube, Spotify or offline playlist and get the party started. 
All the equipment is wireless, so your event can take place anywhere you want.
The padding on the headphones make them very comfortable to wear. For the optimal fit, you can adjust the headband to your personal preference.
The high sound quality of these headphones guarantees the best experience. You can easily regulate the volume per headphone and they have a range up to 300 metres. The headphones and transmitters can last up to a solid 8 hours for your dance-a-thon!
€ 5,00 per headphone per day 
Every order includes the blue music channel for free. Want to be able to switch between multiple channels?
Add the red music channel: € 20,00
Add the red and green music channels: € 40,00
"The Silent Disco headphones were great to have a small party in the park!"
"I didn't expect it would be so much fun! We were dancing and singing along all the time!"
We are Louise and Meggie, two enthusiastic girls who fell in love with the beautiful life in the Spanish sun. We met each other when we moved here 4 years ago and now our friendship is ready for a new adventure: Silent Disco Valencia.
We want everyone to enjoy the possibilities, fun and the special vibe that comes with Silent Disco headphones. We love seeing the smile on people's faces when enjoying the Silent Disco experience. Our goal is to offer the best service possible and to make sure people have a good time.
Do you want to use the headphones for a yoga class in the park or to give your Friday drinks at the office a special touch? Are you a group of friends or organising a big event? We will make it happen!
Check out our website or send us a message to discover all the possibilities to boost your event!
Un abrazo,
Louise & Meggie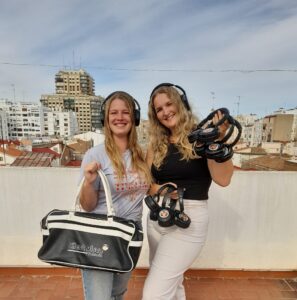 Contact us
Don't worry, we are friendly folks!
You can contact us easily via Whatsapp. We aim to reply within 24 hours to complete your order or answer your questions.
Carrer de Julio Antonio 22-11
46007 Valencia
Spain